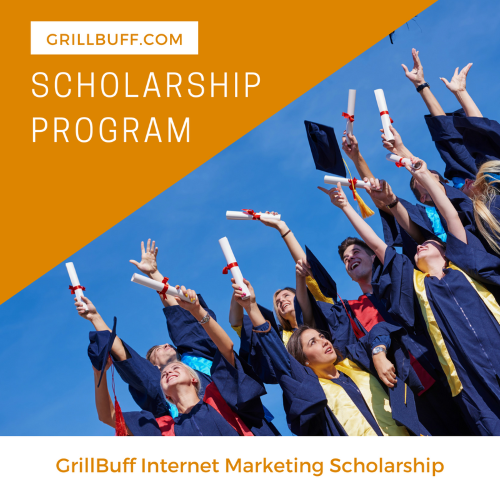 UPDATE: Our Internet Marketing Scholarship Program will resume starting March 1st, 2018.
At Grillbuff.com we do extensive research and product reviews for the latest in outdoor grilling products. Our goal is to offer quality information and help them find the product that best meets their need for grilling or smoking their favorite foods. This takes much research, effort, and great writing skills. Our writers and staff recognize the power of written words, that make-up our posts and pages to which deliver the highest quality content for our readers, and want to help the motivated and creative minds to grow and be a part of the next innovative marketing revolution.
It is for this reason that we are proud to present our Annual Scholarship Program named the "GrillBuff Internet Marketing Scholarship".
We wish to help students currently registered in an accredited American university or college who have a sincere passion for "Internet Marketing". This annual scholarship is awarded to one student based on merit for the amount of $750. Award will be sent accordingly to scholarship rules outlined by winning student's University/College.

Scholarship Amount: $750
Application Deadline: December 28, 2018
Eligibility Requirements
Be an undergraduate student currently registered at a University or College in the United States;
Hold a minimum of 3.00 GPA at the time of application
NOTE: Students wishing to participate do not require "expertise" in this area, just an honest passion for Business/Internet Marketing is sufficient.
Application Process
Students are to write an original 1,500 word (maximum) essay on the subject …"Benefits of Internet Marketing to Businesses". Grammar will be checked.
Prepare a doc or PDF format file with the essay (article) written.
Submit your essay file via email to our Scholarship address shown below.
Please review the eligibility requirements and application process above and don't forget to include the following details:
» Your Full Name
» Email Address
» Phone Number
» Full Mailing Address
» Area of Study
» University/College Name and Email Address
Our dedicated Scholarship email address for essay submissions:


F.A.Q.
• Applicants must be at least the age of majority in their state of residence at time of entry.
• Applicants must be residents of the 50 United States, and Washington D.C.  Void where prohibited by law.
• Applicants may submit only one application for this year's contest.
The scholarship recipient will receive the scholarship award within 60 days after the deadline. By participating in this scholarship program, you are giving your consent for us to contact you by phone, mail or email. In addition, if you are the winner, you are giving us your express consent to use your name, college/university only for the promotional purposes of this Scholarship, without further compensation or payment to you. Upon being declared the winner of our Scholarship; you want us to post your photo to our "Winners List", simply send your photo to us via email. The scholarship recipient is responsible for payment of any applicable State and/or Federal income taxes due to the recipient of the GrillBuff Annual Scholarship Program. NOTE: We require at least 5 scholarship submissions per 'award year' for Scholarship to be awarded. Thank You.
Contacting Us
If there are any questions regarding our Annual Scholarship Program, you may contact us using the information below or you may send us an email.
www.grillbuff.com
1982 State Road 44
New Smyrna Beach, FL 32168 USA
EMAIL UPDATE: We have been experiencing Email Technical difficulties lately. Support has been notified regarding theses email issues. We will hopefully have this problem solved shortly. We apologize for any inconvenience this may have caused you.
2017/2018 Year: We have finished this scholarship year. Unfortunately, due to low submissions according to our policy, we will not have a winner for this year. We hope to see more Scholarship submissions for the following year.